Cal TSS Archive
27 January 2022
April 19, 1980 reunion. Left to right: Dave Redell, Bill Bridge, Paul McJones, Gene McDaniel, Bruce Lindsay, Vance Vaughan, Howard Sturgis.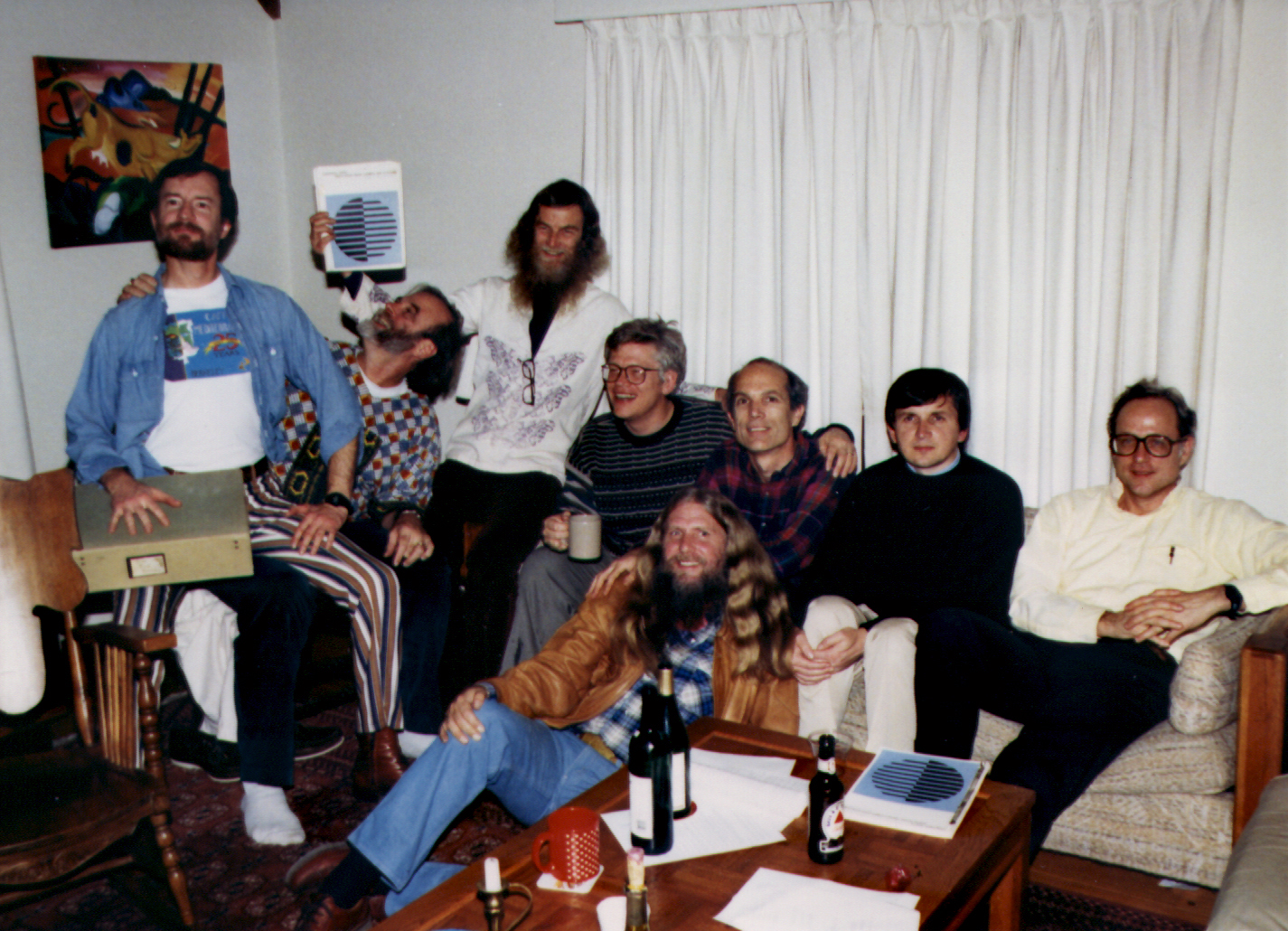 December 14, 1991 reunion. Left to right: Dave Redell, Jim Gray, Vance Vaughan, Gene McDaniel, Bruce Lindsay, Paul McJones, Charles Simonyi, Butler Lampson.
Abstract
This is an archive of scanned copies of most of the known records from the CAL Timesharing System project, which took place in the Computer Center of the University of California, Berkeley, between 1968 and 1971. The system ran on a Control Data Corporation 6400 with Extended Core Storage and Central Exchange Jump. For a history of the project, see [MR2023].
The physical records were donated to the Computer History Museum, Lot #2022.0154. Their organization is described in [McJ2023].
Contents
1 Project plans and proposals

2 Reports and announcements

Design: ECS system

Design: Final system

Design: Final system: architecture

Design: Final system: disk files

Design: Final system: directories

Design: Executive system

4 Documentation

Documentation: ECS system

Documentation: Bead

Documentation: SCOPE simulator

Documentation: User subsystems

Documentation: Programming languages

Documentation: Final system

Documentation: System operation

5 Humor
6 Chronological order

This section repeats all the documents in the previous section in a single chronological sequence.

6.i "A basic time sharing system"

The earliest documents, by Howard Sturgis, take up various aspects of a time-sharing system (including process scheduling, a disk-based file system, low-speed terminal i/o, and capabilities), but don't mention subprocesses or (multilevel) operations.

6.ii Designing the ECS system

In May 1968 Professor Martin Graham, (then Associate Director of the Computer Center) and Howard Sturgis met with Butler Lampson to discuss his involvement in the timesharing project that they were about to initiate. [Graham to Vice-Chancellor Sammet, May 16, 1968, Chancellor's Office Records, Bancroft Library, CU-149. Box 121, folder 9]

In the next series of documents, by Howard Sturgis, Butler Lampson, and Bruce Lindsay, Cal TSS begins to take shape: swapping controlled by a map, subbprocesses, errors and interrupts, and more.

Next the focus shifted to detailed design. Malbrain joined the group, and Simonyi attended a few meetings, but did not join the project, nominating his CAL SNOBOL partner McJones in his stead. Around the same time Gray and Morris began contributing. In the spring of 1969, Standiford joined. That summer Redell joined.

6.iii The ECS system begins to run

By the summer of 1969 enough of the ECS system existed to allow a public demonstration exhibiting editing, compiling and execution of Fortran programs from two teletypes simultaneously.

6.iv Designing the disk system

In the fall Vaughan and McDaniel joined the project, completing the core team.

6.v The disk system begins to run

6.vi Development is discontinued.

6.vii Afterward
7 Source code
See source.
8 Theses
Three of the participants based their Ph.D. theses on aspects of CAL TSS:
9 Papers
A report ([GLLS72]) and several papers ([Lam69] and [LS76]) were eventually published.
10 Hardware
CalTSS ran on a standard Control Data Corporation (CDC) 6400 with Extended Core Storage (ECS) and the Central Processor Monitor features (Monitor Address Register, Monitor Flag Bit, and Monitor and Central Exchange Jump instructions). It used CDC controllers and peripherals for disk, tape, card reader, and printers, but used a locally-developed terminal multiplexor.
11 People
12 Photographs
13 References
14 Citations
Last updated October 12, 2022.